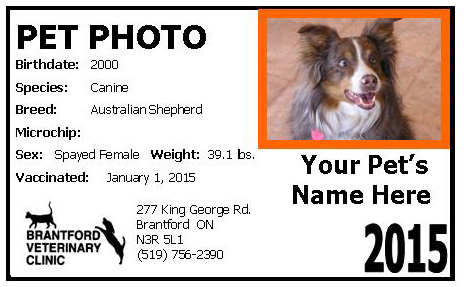 We are making some changes to the way we do Photo ID's!
We hope you enjoy receiving your Pet's ID cards as much as we enjoy producing them. We have come to realize that most pets don't change too much from year to year — so our new plan is to produce ID cards at the "Milestone Years".
This would mean:
1 at 1 year (or the 1st year we meet your pet)
1 at 5 years (We're a mature adult now)
1 at 8 years (We're well into middle age)
1 at 10 years and every year after because
we're seniors and we deserve it.
If at any year in between you would like to receive a card—please let us know and we will be happy to take your pet's picture and produce a card for you.